The Orchards Park is a family run business spanning 3 generations and celebrates 60 years in 2020.
It was started by Tim Wells' grandmother, Nora Beckett, in 1960 when she answered an advert in the Sleaford Standard placed by a Mr Elliott, who was stationed at RAF Cranwell.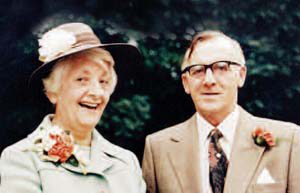 The first article about The Orchards was in "Mobile Home" (later to become the Park Home and Holiday Caravan magazine) in July – August 1972.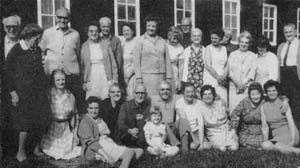 Nora Beckett (Centre) and residents July 1972
Nora always believed that larger plots led to better neighbours. We continue with this ethos even though the size of homes has increased there is garage and/or parking on plots. Some of the plots are the largest in the country.
In the 1980's Jane (Nora's daughter) and Alec took over and continued to nurture and develop the park. In the 2000's they invested in the new infrastructure on the park with the electricity infrastructure laid underground, street lights, natural gas, water and BT ducting. The natural gas, water and BT services were  adopted, so everyone is an individual customer of the supplier.
Jane and Alec took conservation on at an early stage and entered the David Bellamy Conservation Award when it first started in 1999, and were delighted to receive a Gold.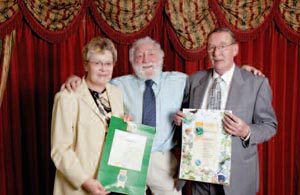 Jane and Alec Wells with Sir David Bellamy
The park continues to advocate the conservation work and has achieved 20 consecutive Gold awards, the only residential park to achieve this in the country.  None of this would have been possible without the continued commitment from all who have lived and worked on the park.
Jane, Alec and park residents chose in 2000 to support LIVES (Lincolnshire First Responders) who are the Lincolnshire charity that supports 700+ highly trained and dedicated volunteers who get to their neighbours fast to deliver vital care in those first critical moments of a medical emergency before handing over to the ambulance service.
Over the last 20 years the Park has raised over £14,000 for this vital charity and continues to do so through various events and fund raising.
In 2015 Jane and Alec passed the management of the park to their son Tim Wells who continues to develop the family business and maintain the community that has been achieved over the past 60 years.