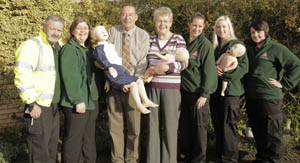 As First Responders become more qualified, they are able to attend call outs that involve children and babies. The money has purchased a junior resuscitation mannequin, Charlie, as well as two baby resuscitation mannequins, Freddy and Fredericka. These training aids will be beneficial in training the different techniques used in treating children and babies. It is reassuring to know that there will be more LIVES First Responders able to attend incidents where children and babies are involved. Any remaining money went towards new uniforms for the group.

The residents and owners of The Orchards Park have raised over £11,000 since April 2000 for LIVES.
There are now two LIVES First Responder groups in Ruskington. All the money raised in an area goes to the local group. Some of the LIVES volunteers are looking towards a career in medical professions.

If there are sufficient First Responders to man the rota, a 999 call will also activate the local First Responder volunteer. They arrive in a very short space of time with a defibrillator, oxygen as well as other equipment. It is reassuring to have them in attendance, knowing that, if necessary, they will use the equipment to help to keep the patient alive until the ambulance and paramedics arrive.

Sometimes it is difficult for them to find the property. PLEASE HAVE YOUR HOUSE NUMBER CLEARLY VISIBLE FROM THE ROAD. If at night, please put all lights on to attract attention. EVERY SECOND COUNTS in saving a life.

If you are interested in volunteering for any LIVES First Responders group, please contact LIVES HQ telephone 01507 525999.